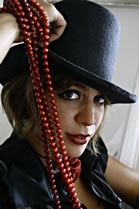 Laura Campisi, an award-winning songwriter and jazz singer based out of Palermo, Italy. Has performed with various musical ensembles throughout Europe, and continues to produce a wide range of music, from classical jazz, rhythm and blues to traditional Sicilian folk and African drumming.

She writes original songs in English, Italian and Sicilian.
Recent performance highlights include winning first place out of hundreds at the 2009 Lucca Jazz Donna Competition, and singing, later that year, at the Italian Embassy in Lisbon for the Festa della Repubblica.